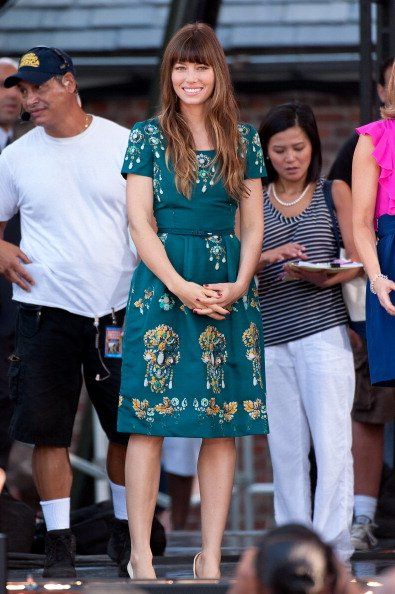 Finishing the US promo tour for "Total Recall", Jessica Biel stopped by "Good Morning America" in New York City last week.
She looked lovely wearing a teal Oscar de la Renta dress from the Fall 2012 collection.
The short-sleeved dress had a bijoux print in gold, aqua and metallic silver and a teal thin leather belt at the waist.
She let her hair down in messy waves and finished off her look with white Louis Vuitton metal cap toe pumps.
<a class="a2a_dd" href="http://www.addtoany.com/share_save?linkurl=http%3A%2F</p> <p>%2Ffashionscanner.onsugar.com%2F&linkname=Fashion%20Scanner">

</a>
<script type="text/javascript">// <![CDATA[ var a2a_config = a2a_config || {}; a2a_config.linkname = "Fashion Scanner"; a2a_config.linkurl = "http://fashionscanner.onsugar.com/"; a2a_config.num_services = 12; // ]]></script><script type="text/javascript" src="http://static.addtoany.com/menu/page.js"></script>