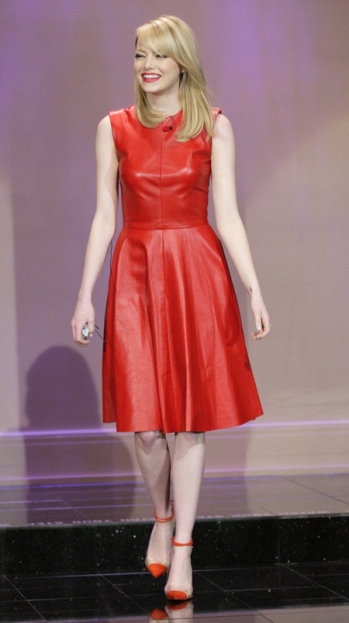 Emma Stone made a guest appearance on "The Tonight Show with Jay Leno" last night to promote her highly anticipated new movie "The Amazing Spider-Man".
The actress decided to contrast her blonde hair with a bright red Monique Lhuillier dress from the Fall 2012 collection.
The first thing Jay Leno said to her as she settled into her seat was, "That's a great dress!".
She went matcy-matchy by styling her leather sleeveless dress with red Christian Louboutin PVC accented pumps and a hot red lips.
I would have liked it with a black belt but this was a great look from Emma and the colour looks spectacular on her.
I can't wait to see what else she has in store for this promo tour!
What do you think of her eye-catching look?
source: nbc