Elizabeth Banks made a guest appearance on "The Tonight Show with Jay Leno" earlier this week to promote her new movie "People Like Us".
The actress looked fabulous as usual wearing a colourful Dolce & Gabbana ensemble.
Her outfit consisted of a yellow jacquard sleeveless top paired with a floral printed skirt in shades of yellow, blue and purple.
She styled it to perfection with a pair of metallic mustard-yellow Sergio Rossi platform sandals and a blue statement ring.
Soft beachy waves and a hint of coral lip gloss pulled the look together.
I love that she's always wearing something different and stylish!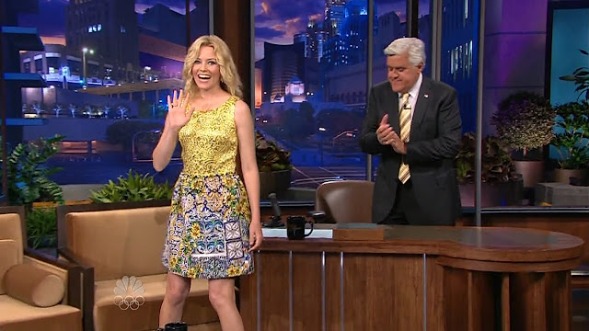 source: nbc

<script type="text/javascript">// <![CDATA[ var a2a_config = a2a_config || {}; a2a_config.linkname = "Fashion Scanner"; a2a_config.linkurl = "http://fashionscanner.onsugar.com/"; a2a_config.num_services = 12; // ]]></script><script type="text/javascript" src="http://static.addtoany.com/menu/page.js"></script>