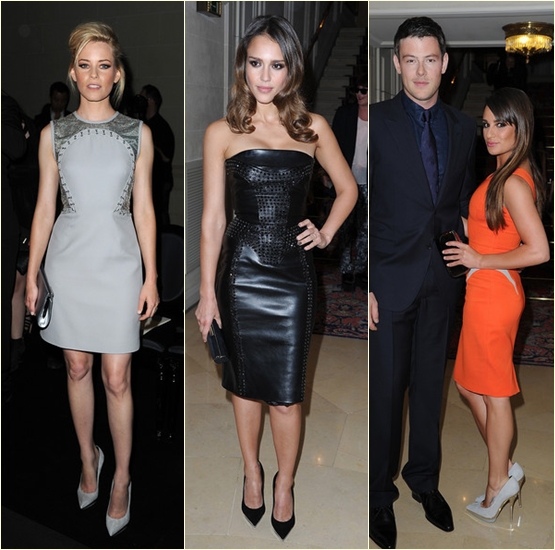 Atelier Versace show for the Fall 2012 couture collection took place at the historic Ritz Paris on Sunday.
Elizabeth Banks looked beautiful in a light grey Versace A-line cocktail sleeveless dress with silver embellished bodice from the Fall 2012 collection.
With her hair up, she kept it coordinated with grey Versace suede pointed pumps and a metallic silver clutch.
Jessica Alba went sexy in a black Versace strapless leather dress enriched by black swarowsky crystals from the Fall 2012 collection.
She completed her look with a pair of black Versace suede pumps, a black clutch and glossy curls.
Lea Michele was all about colour in a bright orange Versace fitted sleeveless dress with grey inserts on the hips which were complemented by grey Versace suede pumps.
source: zimbio
<a class="a2a_dd" href="http://www.addtoany.com/share_save?linkurl=http%3A%2F</p> <p>%2Ffashionscanner.onsugar.com%2F&linkname=Fashion%20Scanner">

</a>
<script type="text/javascript">// <![CDATA[ var a2a_config = a2a_config || {}; a2a_config.linkname = "Fashion Scanner"; a2a_config.linkurl = "http://fashionscanner.onsugar.com/"; a2a_config.num_services = 12; // ]]></script><script type="text/javascript" src="http://static.addtoany.com/menu/page.js"></script>