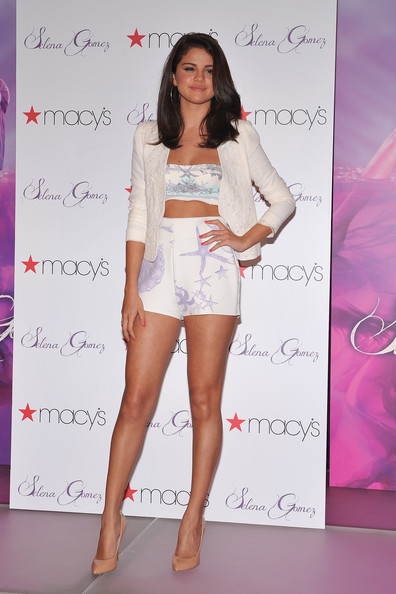 Selena Gomez attended the Macy's launch of her newest fragrance "Mesmerize" in New York City yesterday.
The singer/actress looked cute wearing a Versace ensemble from the Spring 2012 collection.
She wore a starfish printed crop top with matching high-waisted shorts and an ivory Vanessa Bruno embroidered jacket.
Nude Giuseppe Zanotti pumps and gold hoop earrings accessorized the look while orange nail polish and pink glossy lips provided the finishing touches.
 I just wish she had opted for a more interesting pair of heels. Lavender or purple pumps would have been nice...
source: zimbio
<a class="a2a_dd" href="http://www.addtoany.com/share_save?linkurl=http%3A%2F</p> <p>%2Ffashionscanner.onsugar.com%2F&linkname=Fashion%20Scanner">

</a>
<script type="text/javascript">// <![CDATA[ var a2a_config = a2a_config || {}; a2a_config.linkname = "Fashion Scanner"; a2a_config.linkurl = "http://fashionscanner.onsugar.com/"; a2a_config.num_services = 12; // ]]></script><script type="text/javascript" src="http://static.addtoany.com/menu/page.js"></script>