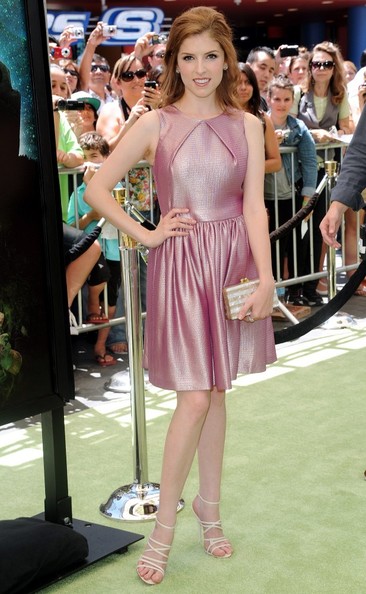 Anna Kendrick joined Leslie Mann on the green carpet at the "ParaNorman" premiere held at Universal CityWalk yesterday.
As usual, the "Twilight" actress opted for a feminine look which included a pink metallic Mulberry dress from the Resort 2012 collection.
Her sleeveless frock with a pleated skirt was paired with ivory Herve Leger strappy sandals and a shimmering nude Edie Parker clutch.
Anna's hair was swept back in a half-up half-down style which provided a glimpse of her Kwiat earrings.
Keeping it pretty, she finished the look with a cute pink lip shade.
source: zimbio
<a class="a2a_dd" href="http://www.addtoany.com/share_save?linkurl=http%3A%2F</p> <p>%2Ffashionscanner.onsugar.com%2F&linkname=Fashion%20Scanner">

</a>
<script type="text/javascript">// <![CDATA[ var a2a_config = a2a_config || {}; a2a_config.linkname = "Fashion Scanner"; a2a_config.linkurl = "http://fashionscanner.onsugar.com/"; a2a_config.num_services = 12; // ]]></script><script type="text/javascript" src="http://static.addtoany.com/menu/page.js"></script>