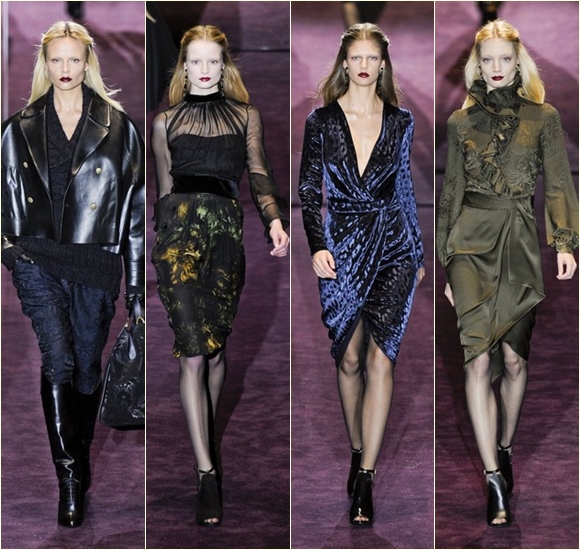 Gucci kicked off Milan Fashion Week with a glamorous dark Fall 2012 collection inspired by 19th-century romanticism.
The Gucci girl preserves her reputation as a femme fatale with a subtle effort to be sexy.

Frida Giannini created flowing and dramatic silhouettes - oversized leather jackets, sweaters, capes, off-the-shoulder gowns, high-neck sheer blouses, tulip draped skirts, fitted sheath dresses and pajama-style pantsuits - some accented with military details.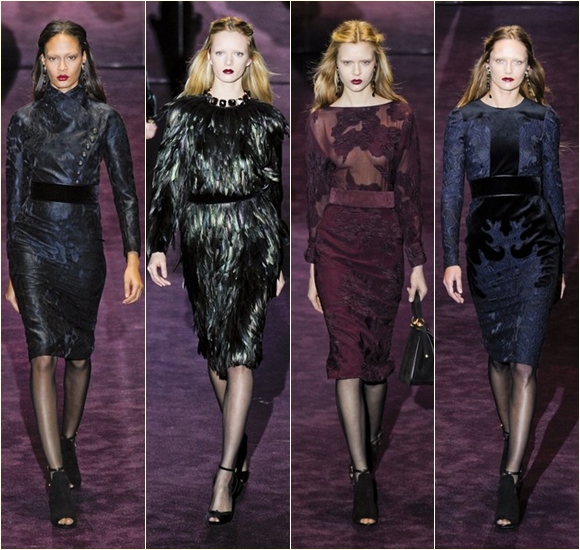 She played up the textural component via velvet, fur, iridescent feather embellishments, sheer silks, patterned brocades and tapestry-inspired jacquards.

There were also glimpses of floral and leopard prints which provided a luxe vibe.
The colour palette that was mainly black also had hints of bottle-green, purple, deep burgundy and dark blues.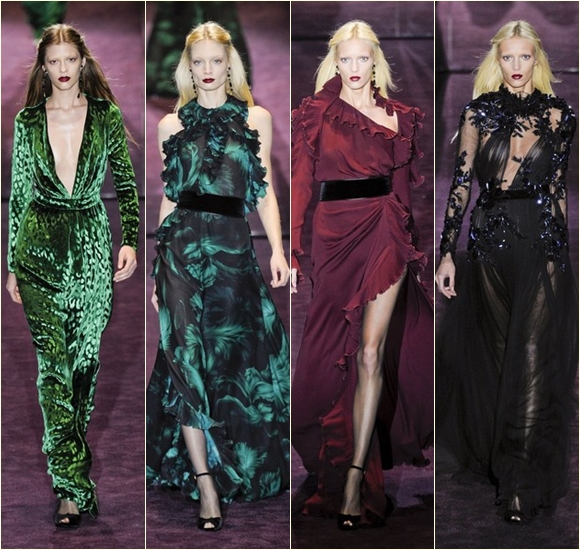 On the final part of the presentation there were plenty of gorgeous Oscars-worthy floor length gowns: several versions of black sheer tulle dresses embroidered with sparkling flowers and sequins, a velvet wrapped number with a plunging neckline and burgundy or floral patterned chiffon gowns with cascading ruffles.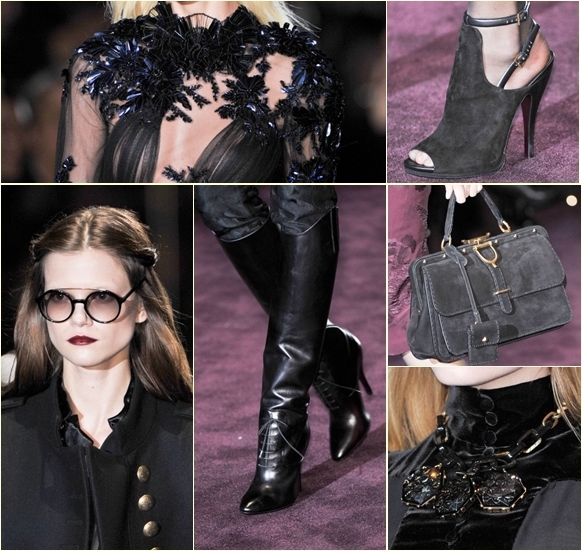 Key acessories included jeweled bow hair clips designed by Frida Giannini, suede peep-toe ankle boots, leather pumps, leather and suede satchels, leather gloves, knee-high boots, round glasses and statement jewelry.
The vampiress beauty look consisted of bleached eyebrows and slightly paled-out skin with a dark burgundy lip shade. A mid-parted half-up half-down hairstyle with loose waves added an extra ethereal touch.
source: stylebistro

<script type="text/javascript">// <![CDATA[ var a2a_config = a2a_config || {}; a2a_config.linkname = "Fashion Scanner"; a2a_config.linkurl = "http://fashionscanner.onsugar.com/"; a2a_config.num_services = 12; // ]]></script><script type="text/javascript"></script>