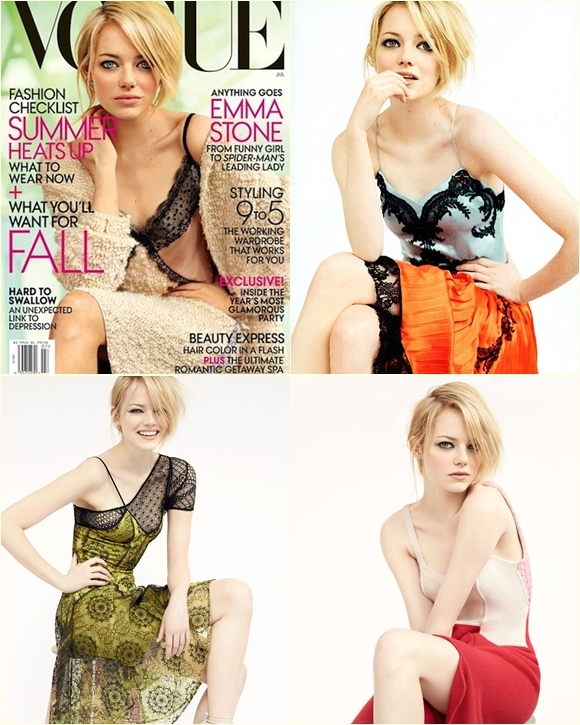 "The Amazing Spider-Man" broke a box office record so, evidently Emma Stone is everywhere right now.
The actress was shot by Mario Testino looking sexy in a brown Nina Ricci dress with black lace accents from the Fall 2012 collection on the Vogue US cover.
On the editorial she posed in blue and orange Givenchy slip dress, an olive-green lace Versus dress and a nude and red Jil Sander Fall 2012 dress.
Interview highlights:
On realising what fashion actually meant: "It was a red dress, it was asymmetrical, and the minute I put it on I thought, Oh, this is what fashion does for people.  It makes them feel like it's an extension of themselves."
On struggling to come to terms with the concept of being a "movie star": "The concept of "movie star" is something that you can never wrap your head around. Not being a cog in the machine, there being guys in New York with cameras – it feels like it's happening to a different person. That loss of anonymity, not being able to just sit and watch in certain circumstances, is very strange."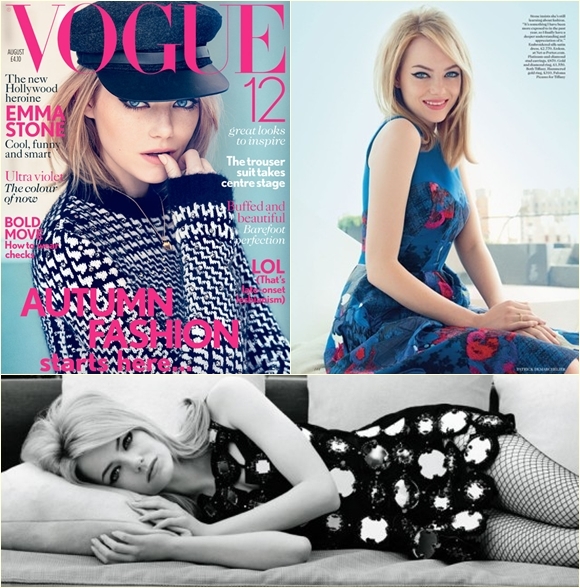 Following on from her July cover for Vogue US, Emma has now made her cover debut for British Vogue magazine, also photographed by Mario Testino.
The Revlon girl graces the August issue wearing a black and white Maxmara houndstooth sweater paired with a black pageboy hat and a blue printed Erdem Fall 2012 dress.
In the interview conducted by Alexa Chung, Emma talked:
About the problems with fame: "To not walk around would be awful. I don't think that that would ever actually happen..... to the point where I can't go anywhere. But that idea makes me physically ill."
About Andrew Garfield: "I was surprised to hear his completely British accent, because on set, obviously, we were speaking in American accents, so in between takes he was pretty American".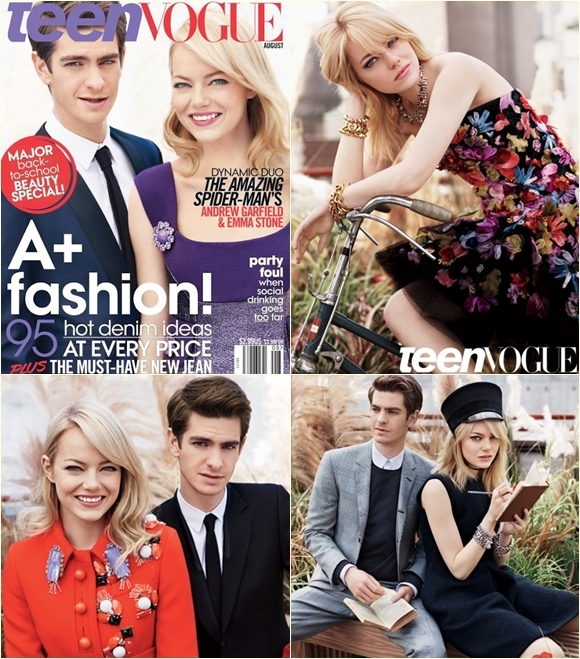 For the August cover of Teen Vogue, Emma shared the spotlight with her boyfriend and co-star Andrew Garfield.
Photographed by Josh Olins, Emma looked lovely in a purple Louis Vuitton Fall 2012 dress while Andrew was dressed in a stylish navy Carven suit.
The blonde beauty also wore a stunning colorful floral appliqué McQ by Alexander McQueen tulle strapless,  an orange Prada Fall 2012 coat and a black Calvin Klein sleeveless dress, all from the Fall 2012 collections.
Interview highlights:
Emma Stone - On what she was actually like in high school: "Well, I was homeschooled in seventh and eighth grades, and I moved out to L.A. when I was fifteen."
Andrew Garfield - On if he had any high school sweethearts: "I had an unrequited love. She actually quoted a Spice Girls song to ask me out and then dumped me after about four hours."
Emma Stone - On her heroes: "My mom, for so many reasons—for her bravery. For everything."
Andrew Garfield - On his heroes: "Her mom. And my mom. [Points to Emma] She's a hero of mine, because she is who she is.... And, of course, Ryan Gosling."

<script type="text/javascript">// <![CDATA[ var a2a_config = a2a_config || {}; a2a_config.linkname = "Fashion Scanner"; a2a_config.linkurl = "http://fashionscanner.onsugar.com/"; a2a_config.num_services = 12; // ]]></script><script type="text/javascript" src="http://static.addtoany.com/menu/page.js"></script>