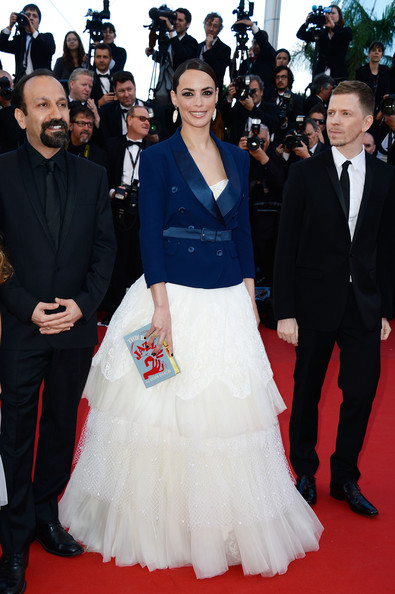 Berenice Bejo, who hosted the opening and closing ceremonies last year, returned to the Cannes Film Festival red carpet tonight to premiere her latest movie "Le Passé".
The French actress wore an Alexis Mabile gown and blazer from the Spring 2013 Couture collection.
The addition of the double-breasted belted blazer is a refreshing modern touche but isn't quite working for me. It's not that the navy shade isn't beautiful but it looks a bit too formal compared with the angelic white tulle and lace strapless tiered ball gown.
I would've liked this if she had opted for the ivory version of the jacket and for a romantic hairstyle rather than her severe slicked back low ponytail.
I also don't know how to feel about her Olympia Le-Tan book clutch... It's a cool accessory but it ends up beeing too distracting.
Glossy lips, kohl-rimmed eyes and white Monique Pean drop earrings completed the look.
source: zimbio