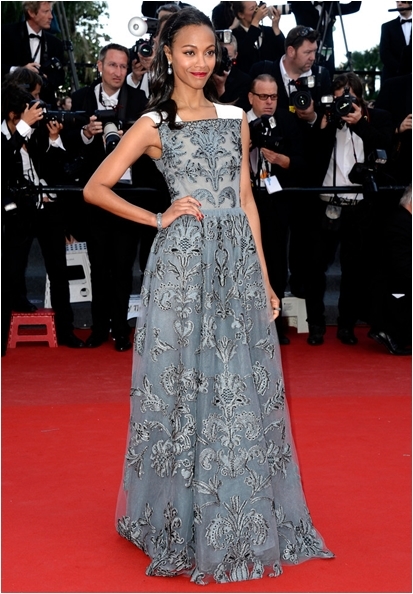 Zoe Saldana is well-known for having a near-impeccable sense of style when it comes to high-profile events and this was most certainly the case at the "Blood Ties" premiere held last night, during the 2013 Cannes Film Festival.
There is just one word to describe how we feel about her Valentino gown from the Fall 2013 collection: LOVE.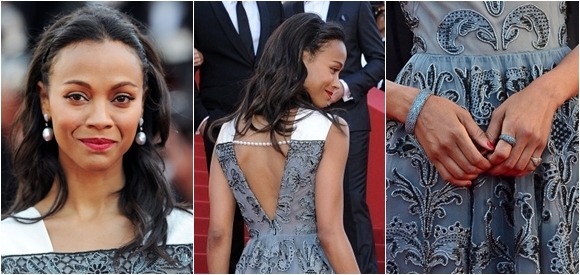 Following her edgy photocall look, Zoe channeled some old-fashioned Cannes glamour instead of her usual fashion-forward style by wearing a very elegant and feminine greyish-blue brocade embroidered sleeveless chiffon dress with contrasting white shoulders and a plunging back held together with a pearl strap.
She wore her wavy hair partially gathered into romantic braided headband that allowed to showcase her coordinating David Yurman pearl drop earrings before finishing with red lipstick and matching manicure. This styling was ideal to keep her look balanced whilst adding a subtle bright pop of colour into the mix. 
Effortless sophistication at its finest!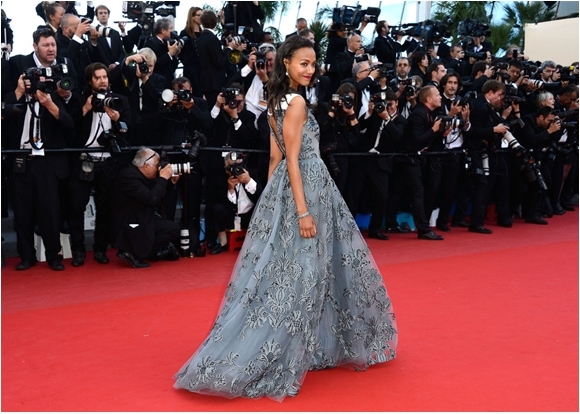 source: zimbio